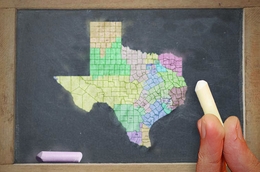 Enlarge
Illustration by Todd Wiseman
The newest Texas Weekly Index measures each of the state's legislative and congressional districts, based on how statewide Republicans and Democrats fared in races in each district over the 2010 and 2012 election cycles.
These are the districts used in the 2012 (post-redistricting) elections and show the percentage-point spread between the average Democratic and Republican candidate in statewide elections over those two years. A red number means the Republicans finished first and shows by how much; a blue number indicates a Democratic district, and its strength.
We cranked the numbers ourselves, but the heavy lifting was done by the Texas Legislative Council, which processed the raw election results into results per district.
Texas House
| District | Representative | Party | TWI |
| --- | --- | --- | --- |
| 1 | Lavender, George | R | -37.3 |
| 2 | Flynn, Dan | R | -50.5 |
| 3 | Bell Jr., Cecil | R | -57.1 |
| 4 | Gooden, Lance | R | -46.6 |
| 5 | Hughes, Bryan | R | -45.9 |
| 6 | Schaefer, Matt | R | -46.3 |
| 7 | Simpson, David | R | -45.9 |
| 8 | Cook, Byron | R | -44.6 |
| 9 | Paddie, Christopher Chris | R | -37.6 |
| 10 | Pitts, Jim | R | -47.9 |
| 11 | Clardy, Travis | R | -44.8 |
| 12 | Kacal, Kyle | R | -23.3 |
| 13 | Kolkhorst, Lois | R | -49.6 |
| 14 | Raney, John | R | -33.4 |
| 15 | Toth, Steve | R | -58.8 |
| 16 | Creighton, Brandon | R | -62.6 |
| 17 | Kleinschmidt, Tim | R | -20.3 |
| 18 | Otto, John | R | -39.7 |
| 19 | White, James | R | -47.0 |
| 20 | Farney, Marsha | R | -44.1 |
| 21 | Ritter, Allan | R | -42.5 |
| 22 | Deshotel, Joe | D | 23.4 |
| 23 | Eiland, Craig | D | -8.3 |
| 24 | Bonnen, Greg | R | -48.5 |
| 25 | Bonnen, Dennis | R | -38.9 |
| 26 | Miller, Rick | R | -35.4 |
| 27 | Reynolds, Ron | D | 35.0 |
| 28 | Zerwas, John | R | -36.7 |
| 29 | Thompson, Ed | R | -32.9 |
| 30 | Morrison, Geanie W. | R | -39.6 |
| 31 | Guillen, Ryan | D | 13.7 |
| 32 | Hunter, Todd | R | -23.1 |
| 33 | Turner, Scott | R | -50.7 |
| 34 | Herrero, Abel | D | 3.7 |
| 35 | Longoria, Oscar | D | 24.8 |
| 36 | Muñoz Jr., Sergio | D | 41.7 |
| 37 | Oliveira, René | D | 26.8 |
| 38 | Lucio III, Eddie | D | 21.6 |
| 39 | Martinez, Armando Mando | D | 44.1 |
| 40 | Canales, Terry | D | 47.6 |
| 41 | Guerra, Robert Bobby | D | 4.4 |
| 42 | Raymond, Richard Peňa | D | 48.1 |
| 43 | Lozano, Jose Manuel | R | -8.5 |
| 44 | Kuempel, John | R | -42.2 |
| 45 | Isaac, Jason A. | R | -18.8 |
| 46 | Dukes, Dawnna | D | 49.4 |
| 47 | Workman, Paul | R | -23.8 |
| 48 | Howard, Donna | D | 10.2 |
| 49 | Naishtat, Elliott | D | 41.1 |
| 50 | Strama, Mark | D | 9.3 |
| 51 | Rodriguez, Eddie | D | 55.3 |
| 52 | Gonzales, Larry | R | -21.4 |
| 53 | Hilderbran, Harvey | R | -53.9 |
| 54 | Aycock, Jimmie Don | R | -21.1 |
| 55 | Sheffield, Ralph | R | -36.6 |
| 56 | Anderson, Charles Doc | R | -40.0 |
| 57 | Ashby, Trent | R | -41.0 |
| 58 | Orr, Rob | R | -52.9 |
| 59 | Sheffield, J.D. | R | -50.5 |
| 60 | Keffer, James Jim | R | -61.0 |
| 61 | King, Phil | R | -62.0 |
| 62 | Phillips, Larry | R | -45.8 |
| 63 | Parker, Tan | R | -50.8 |
| 64 | Crownover, Myra | R | -29.2 |
| 65 | Simmons, Ron | R | -27.7 |
| 66 | Taylor, Van | R | -34.2 |
| 67 | Leach, Jeff | R | -32.1 |
| 68 | Springer, Drew | R | -54.6 |
| 69 | Frank, James | R | -49.1 |
| 70 | Sanford, Scott | R | -45.7 |
| 71 | King, Susan | R | -52.3 |
| 72 | Darby, Drew | R | -52.6 |
| 73 | Miller, Doug | R | -59.6 |
| 74 | Nevárez, Alfonso Poncho | D | 12.1 |
| 75 | González, Mary | D | 37.4 |
| 76 | Gonzalez, Naomi R. | D | 47.7 |
| 77 | Marquez, Marisa | D | 20.4 |
| 78 | Moody, Joseph Joe | D | -1.0 |
| 79 | Pickett, Joe | D | 18.1 |
| 80 | King, Tracy | D | 29.1 |
| 81 | Lewis, Tryon | R | -52.4 |
| 82 | Craddick, Tom | R | -62.4 |
| 83 | Perry, Charles | R | -56.7 |
| 84 | Frullo, John | R | -37.9 |
| 85 | Stephenson, Phil | R | -24.1 |
| 86 | Smithee, John | R | -66.3 |
| 87 | Price, Walter T. Four | R | -55.4 |
| 88 | King, Ken | R | -59.2 |
| 89 | Laubenberg, Jodie | R | -40.9 |
| 90 | Burnam, Lon | D | 38.9 |
| 91 | Klick, Stephanie | R | -41.2 |
| 92 | Stickland, Jonathan | R | -32.1 |
| 93 | Krause, Matt | R | -28.5 |
| 94 | Patrick, Diane | R | -29.6 |
| 95 | Collier, Nicole | D | 47.4 |
| 96 | Zedler, Bill | R | -22.7 |
| 97 | Goldman, Craig | R | -26.6 |
| 98 | Capriglione, Giovanni | R | -55.8 |
| 99 | Geren, Charlie | R | -36.1 |
| 100 | Johnson, Eric | D | 49.4 |
| 101 | Turner, Chris | D | 21.1 |
| 102 | Carter, Stefani | R | -18.6 |
| 103 | Anchia, Rafael | D | 33.3 |
| 104 | Alonzo, Roberto | D | 39.4 |
| 105 | Harper-Brown, Linda | R | -15.3 |
| 106 | Fallon, Pat | R | -43.4 |
| 107 | Sheets, Kenneth | R | -13.8 |
| 108 | Branch, Dan | R | -26.9 |
| 109 | Giddings, Helen | D | 58.3 |
| 110 | Rose, Toni | D | 75.4 |
| 111 | Davis, Yvonne | D | 49.4 |
| 112 | Button, Angie Chen | R | -20.4 |
| 113 | Burkett, Cindy | R | -13.6 |
| 114 | Villalba, Jason | R | -21.1 |
| 115 | Ratliff, Bennett | R | -24.3 |
| 116 | Martinez Fischer, Trey | D | 13.3 |
| 117 | Cortez, Philip | D | -5.9 |
| 118 | Farias, Joe | D | 6.3 |
| 119 | Gutierrez, Roland | D | 13.2 |
| 120 | McClendon, Ruth Jones | D | 17.4 |
| 121 | Straus, Joe | R | -32.0 |
| 122 | Larson, Lyle | R | -45.0 |
| 123 | Villarreal, Mike | D | 15.1 |
| 124 | Menéndez, José | D | 12.2 |
| 125 | Rodriguez, Justin | D | 10.0 |
| 126 | Harless, Patricia | R | -34.9 |
| 127 | Huberty, Dan | R | -45.6 |
| 128 | Smith, Wayne | R | -47.3 |
| 129 | Davis, John E. | R | -36.4 |
| 130 | Fletcher, Allen | R | -57.8 |
| 131 | Allen, Alma A. | D | 63.1 |
| 132 | Callegari, Bill | R | -29.6 |
| 133 | Murphy, Jim | R | -44.5 |
| 134 | Davis, Sarah | R | -20.1 |
| 135 | Elkins, Gary W. | R | -28.7 |
| 136 | Dale, Tony | R | -21.1 |
| 137 | Wu, Gene | D | 17.1 |
| 138 | Bohac, Dwayne | R | -28.8 |
| 139 | Turner, Sylvester | D | 45.7 |
| 140 | Walle, Armando | D | 37.4 |
| 141 | Thompson, Senfronia | D | 69.9 |
| 142 | Dutton Jr., Harold | D | 51.8 |
| 143 | Hernandez Luna, Ana | D | 33.4 |
| 144 | Perez, Mary Ann | D | -0.7 |
| 145 | Alvarado, Carol | D | 16.3 |
| 146 | Miles, Borris L. | D | 52.2 |
| 147 | Coleman, Garnet | D | 56.2 |
| 148 | Farrar, Jessica Cristina | D | 10.6 |
| 149 | Vo, Hubert | D | 3.4 |
| 150 | Riddle, Debbie | R | -45.3 |
Texas Senate
| District | Senator | Party | TWI |
| --- | --- | --- | --- |
| 1 | Eltife, Kevin | R | -42.5 |
| 2 | Deuell, Bob | R | -30.0 |
| 3 | Nichols, Robert | R | -46.2 |
| 4 | Williams, Tommy | R | -44.6 |
| 5 | Schwertner, Charles | R | -32.4 |
| 6 | Garcia, Sylvia | D | 30.1 |
| 7 | Patrick, Dan | R | -42.8 |
| 8 | Paxton, Ken | R | -33.1 |
| 9 | Hancock, Kelly | R | -27.5 |
| 10 | Davis, Wendy | D | -14.3 |
| 11 | Taylor, Larry | R | -34.0 |
| 12 | Nelson, Jane | R | -40.2 |
| 13 | Ellis, Rodney | D | 64.0 |
| 14 | Watson, Kirk | D | 17.2 |
| 15 | Whitmire, John | D | 12.6 |
| 16 | Carona, John | R | -24.7 |
| 17 | Huffman, Joan | R | -27.5 |
| 18 | Hegar, Glenn | R | -38.1 |
| 19 | Uresti, Carlos | D | 3.4 |
| 20 | Hinojosa, Juan Chuy | D | 6.5 |
| 21 | Zaffirini, Judith | D | 11.0 |
| 22 | Birdwell, Brian | R | -37.2 |
| 23 | West, Royce | D | 58.1 |
| 24 | Fraser, Troy | R | -46.2 |
| 25 | Campbell, Donna | R | -37.0 |
| 26 | Van de Putte, Leticia | D | 15.9 |
| 27 | Lucio, Eddie | D | 28.5 |
| 28 | Duncan, Robert | R | -48.8 |
| 29 | Rodriguez, Jose | D | 21.4 |
| 30 | Estes, Craig | R | -51.5 |
| 31 | Seliger, Kel | R | -61.0 |
U.S. Congress
| District | Representative | Party | TWI |
| --- | --- | --- | --- |
| 2 | Poe, Ted | R | -34.3 |
| 1 | Gohmert, Louie | R | -44.0 |
| 3 | Johnson, Sam | R | -37.7 |
| 4 | Hall, Ralph | R | -43.7 |
| 5 | Hensarling, Jeb | R | -32.2 |
| 6 | Barton, Joe | R | -22.5 |
| 7 | Culberson, John | R | -30.2 |
| 8 | Brady, Kevin | R | -55.6 |
| 9 | Green, Al | D | 50.7 |
| 10 | McCaul, Michael | R | -25.6 |
| 11 | Conaway, Mike | R | -57.9 |
| 12 | Granger, Kay | R | -38.0 |
| 13 | Thornberry, Mac | R | -58.8 |
| 14 | Weber, Randy | R | -21.7 |
| 15 | Hinojosa, Ruben | D | 7.5 |
| 16 | O'Rourke, Beto | D | 19.1 |
| 17 | Flores, Bill | R | -25.4 |
| 18 | Jackson Lee, Sheila | D | 47.9 |
| 19 | Neugebauer, Randy | R | -50.2 |
| 20 | Castro, Joaquin | D | 10.0 |
| 21 | Smith, Lamar | R | -28.0 |
| 22 | Olson, Pete | R | -31.7 |
| 23 | Gallego, Pete | D | -10.4 |
| 24 | Marchant, Kenny | R | -31.7 |
| 25 | Williams, Roger | R | -24.2 |
| 26 | Burgess, Michael | R | -42.8 |
| 27 | Farenthold, Blake | R | -24.8 |
| 28 | Cuellar, Henry | D | 12.4 |
| 29 | Green, Gene | D | 28.9 |
| 30 | Johnson, Eddie Bernice | D | 54.7 |
| 31 | Carter, John | R | -28.5 |
| 32 | Sessions, Pete | R | -23.5 |
| 33 | Veasey, Marc | D | 36.0 |
| 34 | Vela, Filemon | D | 12.9 |
| 35 | Doggett, Lloyd | D | 19.1 |
| 36 | Stockman, Steve | R | -44.4 |