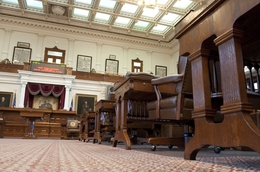 Most of the legislators who aren't returning for another term decided for themselves not to come back, either because they wanted out of politics for now or because they decided to run for a different office. It's an up or out thing. But there's another group, too: After the first round of primary voting, more officeholders joined the list — involuntarily.
So far, 37 members of the Texas House, four members of the Texas Senate, and three members of the 32-person congressional delegation from Texas are on the list. Runoffs could add more, and so will the general election. All in all, there are 25 Republican runoffs in state races and a dozen on the Democratic side, and there's some action there, as you'll see below. First, the list of the people who won't be at the same desks come January.
Railroad Commission candidate Warren Chisum, R-Pampa, will go into his runoff with Christi Craddick with endorsements from two who missed that last round. Becky Berger and Roland Sledge both endorsed Chisum. Berger finished third in that race; Sledge finished fifth. Chisum, a 12-term state representative, finished second to Craddick, the daughter of former Speaker Tom Craddick, who is making her first bid for elected office.
U.S. Rep. Eddie Bernice Johnson, D-Dallas, endorsed Marc Veasey of Fort Worth over Domingo Garcia of Dallas in the Democratic primary runoff for the new CD-33 seat in the delegation. Veasey finished 12 points ahead of Garcia in a crowded primary. Veasey also picked up a nod from one of his first-round opponents, former Dallas City Councilman Steve Salazar.
Railroad Commissioner David Porter endorsed David Dewhurst for U.S. Senate.
Lots of primary losers are making their endorsements in the runoffs. Ken King, the remaining challenger to Rep. Jim Landtroop, R-Plainview, picked up endorsements from the third- and fourth-place finishers in that four-man contest. Gary Walker and Mac Smith remain opposed to the incumbent.
Josh Tetens endorsed Tucker Anderson in the HD-12 runoff (the open seat district that runs from Brazos County north to McLennan County). Anderson will face Ky Kacal in July.
Jesse Gaines will go into his runoff against Nicole Collier with the backing of third-place finisher Dulani Masimini in Tarrant County's HD-95.
And in HD-117 in San Antonio, third-place finisher Ken Mireles endorsed Tina Torres, who finished second, over Philip Cortez.