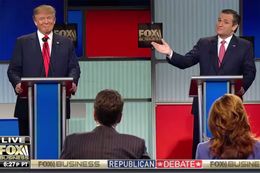 After offering a less-than-enthusiastic endorsement of Donald Trump last week, Ted Cruz is giving high marks to the Republican presidential nominee for his first debate with Hillary Clinton.
"Tonight, Donald Trump had his strongest debate performance of the election cycle," the Texas senator wrote on Facebook shortly after Trump left the stage Monday night. "He drew strong contrasts with Hillary on taxes, regulations, law and order, and the disastrous Iran deal."
On Friday, Cruz finally threw his support to Trump, his former bitter rival in the primaries. But in the days since, Cruz has appeared uneasy explaining his endorsement and squaring it with his harsh criticism of Trump in the past.
In a radio interview Tuesday morning, Cruz continued to praise Trump's debate performance. Speaking with conservative host Hugh Hewitt, Cruz specifically defended Trump against Clinton's focus on his years-long questioning of whether President Barack Obama was born in the United States.
"I don't think there are a whole lot of voters in this country that give a flying flip about the birther issue," Cruz said. "If all Hillary cares about is screaming, 'You're a racist, you're a racist,' rather than actually providing real solutions to the challenges facing working men and women, I don't think that's a good debate night for her."
*****
GOP nominee Donald Trump added a stop to a Texas fundraising swing in mid-October: Alamo City.
The real estate mogul is shooting to raise $5-8 million in Texas in October to fuel the final stretch of the presidential campaign. The Tribune previously reported Friday that the Texas trip would include a Dallas fundraiser.
The San Antonio event will be on Oct. 11 luncheon, and attendees are asked to donate as much as $100,000 per couple.
This will be Trump's third Texas trip in two months.
*****
Several Texans were credited with helping lead a national fundraising push for Donald Trump, said to have raised more than $18 million in donations and pledges for the GOP nominee's campaign and the RNC after Monday's presidential debate.
Among those listed in a press release from the campaign were: Dallas-based fundraiser Allison McIntosh, Dallas-based investor Ray Washburne, Dallas-based financier Roy Bailey, Dallas-based investor Gentry Beach, Dallas-based investor Tommy Hicks and San Antonio-based website developer Brad Parscale.
*****
State Sen. John Whitmire, D-Houston, is wading into the ongoing controversy over policy and community relations. On Thursday, he said that he plans to file legislation next session that would require teaching ninth graders on what to do if they are stopped by police for a traffic violation or if they are detained.
According to Whitmire's office, the proposed legislation is intended to help prevent "escalated situations between officers and civilians." Encounters in Texas and elsewhere between law enforcement and civilians that have turned violent have made headlines for more than a year.
"There is no home team or visiting team," Whitmire said in a statement. "We must all come together to develop the best strategies to improve relations and trust between law enforcement and the communities they serve."
Whitmire chairs the Senate Criminal Justice Committee, which will take up an interim charge to look at ways to "to reduce the number of injuries and death to or by law enforcement officers" at a Tuesday hearing.