Cruz Convention Speaking Slot Is Still Up in the Air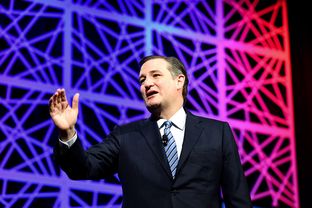 Ted Cruz is not banking on a speaking slot at the Republican National Convention with a few weeks to go until the festivities in Cleveland.
That's what his team made clear Monday afternoon, responding to an interview published over the weekend in which Donald Trump, the presumptive GOP presidential nominee, said he would not invite Cruz to speak if the Texas senator does not endorse Trump. Since dropping out of the race last month, Cruz has declined to offer any support to Trump.
"We haven't operated under any assumption that we'll have a speaking role, those decisions are up to those planning the convention," Cruz spokeswoman Catherine Frazier said in a statement. "Cruz's priority in going to Cleveland will be to thank the many delegates who worked hard on his behalf while he was in the race, and he's looking forward to that."
The convention is being held from July 18-21 in Cleveland. Cruz has said he will attend, but the extent of his role there remains unclear.
*****
In other Cruz news, he scored a major victory Tuesday in his efforts to boost down-ballot candidates across the country.
Darryl Glenn, a county commissioner considered a long shot until recently, won the Republican primary for U.S. Senate in Colorado. In November, Glenn will face Michael Bennet, considered Senate Democrats' most vulnerable incumbent.
Cruz had endorsed Glenn earlier this month and traveled to Denver to campaign for him. The Texas senator took to social media Wednesday to congratulate Glenn on the improbable win.
Not all Republicans are celebrating the victory by Glenn, a conservative favorite with a skeletal campaign who starts at a serious disadvantage against Bennet. Progress Texas, a liberal advocacy organization based in Austin, offered a "sincere thank you" to Cruz on Wednesday for helping a candidate the group sees as dead on arrival in the general election.
"Democrats have a great chance to win a U.S. Senate majority now that Ted Cruz helped a Donald Trump-loving candidate win a Colorado primary," Ed Espinoza, executive director of Progress Texas, said in a statement. "That candidate has no chance of winning a general election and this morning national Republicans have written-off the race."
Four Cruz-backed candidates were on the ballot Tuesday. Two of them, Glenn and U.S. Rep. Jim Bridenstine of Oklahoma, won their races, while the other two, South Carolina state Sen. Lee Bright and Oklahoma House hopeful Carl Parson, lost.
*****
Cruz's leadership PAC is getting a reboot.
His Jobs Growth and Freedom Fund is now known as the Jobs, Freedom, and Security PAC, according to paperwork filed Wednesday with the Federal Election Commission. The new name reflects the platform that characterized Cruz's final weeks as a presidential candidate.
Politicians like Cruz typically use leadership PACs to fund their activities supporting like-minded candidates and to house political staff. In the run-up to the current presidential race, leadership PACs were a popular vehicle for laying the groundwork for an official run.
The Jobs Growth and Freedom Fund was largely dormant during Cruz's presidential campaign, raising and spending very little. As of May 31, it had $37,718.38 in the bank.
*****
Donald Trump finally weighed in Thursday on the U.S. Supreme Court's decision to strike down Texas' abortion restrictions.
In a radio interview, the presumptive Republican presidential nominee used the case to argue he can be trusted to replace Antonin Scalia, the conservative justice who died earlier this year.
"Now if we had Scalia was living or if Scalia was replaced by me, you wouldn't have had that," Trump told conservative radio host Mike Gallagher. "OK? It would've been the opposite."
Trump's promise is not entirely true. The high court's ruling was 5-3, meaning it still would not have mattered if Scalia added his vote to the opposition, as he likely would have done.
Trump had been silent on the landmark decision, which came down Monday. His Democratic opponent, Hillary Clinton, quickly commented on it, calling it "a victory for women across America."
*****
Austin pollster Mike Baselice has joined Trump's presidential campaign, Baselice confirmed Thursday afternoon.
Baselice has previously polled for former Gov. Rick Perry and current Gov. Greg Abbott when he was attorney general. Baselice's hire by the Trump campaign was first reported by The New York Times.
The New York Times also reported Trump's team has hired Kellyanne Conway, a pollster who previously helmed a super PAC supporting Ted Cruz's presidential campaign. Conway did not respond to a request for comment.