Ted Cruz Snags Several of Jeb Bush's Money Men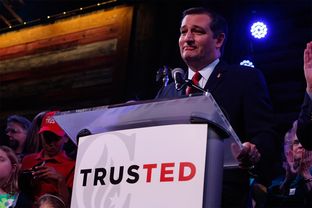 Ted Cruz's presidential campaign announced Thursday it has won the support of eight former members of Jeb Bush's national finance committee.
Bush, the former governor of Florida, dropped out of the Republican race last month, freeing up some donors in Cruz's home state of Texas. The new additions to Cruz's team include six notable Texans: Paul Dickerson of Houston, Charles Foster of Houston, Paula and Jim Henry of Midland, and Nancy and Randy Best of Dallas.
Cruz's announcement came a day after his campaign revealed it had raised almost $12 million in February, its biggest haul yet. The Cruz campaign has now taken in more than $66 million overall.
The full list of the new members of Cruz's national finance team:
Paul Dickerson of Houston
Boyden Gray of Washington, D.C.
Charles Foster of Houston
Reginald J. Brown of Washington, D.C.
Paula and Jim Henry of Midland
Nancy and Randy Best of Dallas
*****
Texas' first lady, Cecilia Abbott, is one of 17 women named as national co-chairs of an effort to spread the message that a Cruz presidency would benefit women.
Other notable names in that list include Ginni Thomas, conservative activist and wife of Supreme Court Justice Clarence Thomas; Jenny Beth Martin, chairman of the Tea Party Patriots Citizens Fund; Kaye Goolsby, the Cruz campaign's national grassroots chairwoman; and Mica Mosbacher, Republican political activist and widow of former Commerce Secretary Bob Mosbacher.
The Cruz campaign said the Women for Cruz coalition includes more than 23,000 members.
*****
Tuesday's primary contests provided a few more examples of the maxim that every vote counts.
Example No. 1 was Byron Cook's close call in HD-8. The Corsicana Republican was losing his re-election bid through most of the night when the final precincts reporting out of Anderson County lifted him to a 222-vote win out of more than 28,000 votes cast.
The Hugh Shine-Molly White contest in HD-55 was even closer with the challenger taking the seat by 118 votes out of more than 19,000 votes cast.
Closest of all, though, was David Simpson's 13-vote advantage over Red Brown, which lifted Simpson into a May runoff in the SD-1 contest and left Brown on the outside looking in.
Two of those races may not be over yet. White, the freshman state representative from Belton, said she is requesting a recount. Simpson and Brown are in talks to ask for a recount in the SD-1 race.
The two largest counties in SD-1, Smith and Gregg, received 410 and 128 provisional ballots respectively. Smith is Brown's home county, whereas Simpson is from Gregg. Military ballots are still incoming.
The local canvasses for the election will be held next week.