A Judicial Appointment Leads to Unlikely Rift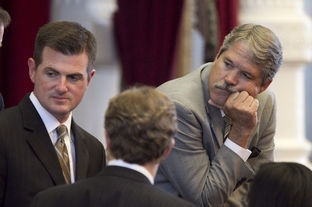 An unlikely rift between Gov. Rick Perry and two normally staunch allies — state Sen. Larry Taylor and Texans for Lawsuit Reform — opened this week over a judicial appointment in Taylor's district.
It's considered a normal practice to defer to the hometown senator if he or she objects to an appointment. But Perry chose to disregard the custom in naming Bret Griffin of Friendswood to the 212th District Court. Both Taylor and TLR were backing another person, Patricia Grady, for the post and made their displeasure loudly known in a series of statements released to the media.
Taylor and TLR also seized on Griffin's close connections with Tony Buzbee, a high-profile trial lawyer who also happens to be close enough to Perry to be given a seat on the Texas A&M University System's board of regents.
It would be interesting to know why Perry chose to antagonize a lawmaker and an organization who are normally close to the governor. The temptation, of course, is to read this as another example of how Perry acts when he knows he'll never have to protect an agenda in a legislative session ever again.
If that's the case, Perry wasn't giving the game away with his response to Taylor's criticisms earlier this week. A spokeswoman for the governor said, "The governor appoints individuals who are qualified and willing to serve, and makes decisions in the best interests of Texans."
One thing, though, can be said with certainty: Don't look for Taylor to be block-walking for Perry in Iowa anytime soon.
*****
The 30-day campaign reports aren't due until next week, but GOP comptroller candidate Glenn Hegar decided he wanted to get a jump on his competitors by releasing his top-line fundraising numbers a week early. In roughly three weeks of fundraising activity since Jan. 1, Hegar raised $262,000, leaving $2.7 million in his campaign account.
*****
In the race for railroad commissioner, GOP candidate Ryan Sitton made a splash this week with the release of a list of endorsements filled with Republican activist and oil and gas heavyweights. The big names on the oil and gas side include former gubernatorial candidate Clayton Williams, Rich Kinder of Kinder Morgan Energy, Don Jordan of Reliant Energy and T. Boone Pickens.
On the activist side, Sitton has the support of Steve Hotze of the Conservative Republicans of Texas and Terry Lowry of The Link Letter.
Sitton is in a crowded field that includes a former state representative beloved by grassroots conservatives (Wayne Christian), an oil and gas investor who has also racked up an impressive list of endorsements (Malachi Boyuls) and an oil and gas engineer who has run for railroad commissioner before (Becky Berger).