After Jeb Bush Exits, His Super PAC Cancels Ad Buys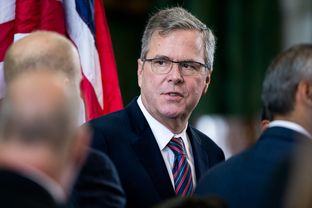 As Republican candidates and analysts scramble to gauge the impact of former Florida Gov. Jeb Bush's exit from the presidential race this past weekend, some of the short-term effects of his exit are immediately quantifiable: Right to Rise USA, the well-funded super PAC supporting Bush, has canceled its massive ad buy on TV stations across Texas.
Right to Rise USA spokesman Paul Lindsay confirmed the PAC had asked Texas stations to cancel all planned advertisements, which totaled more than $4 million, according to the San Antonio Express-News.
Conservative Solutions PAC, which is backing Florida Sen. Marco Rubio, announced that it was buying some airtime in Texas albeit on a much smaller scale than what the Bush super PAC had envisioned. The Rubio super PAC made ad buys in a number of Texas markets, including purchases of more than $162,000 in Dallas and $50,000 in Austin, according to contracts uploaded to the FCC database.
*****
Heidi Cruz is hitting the campaign trail for her husband, Republican presidential candidate Ted Cruz.
The wife of the U.S. senator from Texas will hold 10 events across Texas from Sunday to Monday, his campaign announced Tuesday. The whirlwind tour will take Heidi Cruz to Beaumont, Katy, Rosenberg, Kingwood, The Woodlands, Nacogdoches, Tyler, Waco, Georgetown and Brenham.
As she crisscrosses Texas, Heidi Cruz is set to be joined by a number of prominent home-state supporters. They include Tyler Tea Party activist JoAnn Fleming, state Rep. Mark Keough of The Woodlands, state Sen. Brandon Creighton of Conroe, state Sen. Charles Schwertner of Georgetown and state Sen. Lois Kolkhorst of Brenham.
*****
Hillary Clinton's campaign released its first Texas TV ad of the 2016 campaign on Friday and followed up on Tuesday with four additional TV ads Tuesday that will run in Texas ahead of the state's March 1 primary.
The first one, a 30-second ad, touts Clinton's record on nuclear negotiations, women's rights, Social Security, veterans, and health care, making the argument that "she's the one who's proven she can get it done."
The ads include another new one, which touts Clinton's work for Latino families on health care, immigration reform and college costs.
The campaign will also air a popular ad featuring her interaction with a child who fears her parents may be deported, one on equal pay and another narrated by Morgan Freeman on "breaking barriers."
The ads were all set to run in the smaller, minority-heavy media markets of El Paso, Harlingen-McAllen, Beaumont and Waco, areas that Clinton performed strongly in during the 2008 campaign and have been part of the campaign's prominent minority outreach efforts. Clinton aides have long viewed the diverse demographics of Texas' Democratic base as favorable to the former secretary of state.
*****
The SEIU will run Spanish-language TV and radio ads in Houston supporting Clinton ahead of next week's Texas primary, the union announced Wednesday.
"Latino voters play a critical role in deciding who the Democratic nominee for president will be and it is important they know that Hillary Clinton will be our champion," said Rocio Saenz, SEIU International Executive Vice President in a statement.
The 30-second TV spot emphasizes Clinton's support of a "fair minimum wage" and access to affordable healthcare for children and seniors. The radio ad follows the same script.
*****
Former Secretary of State Madeleine Albright was in Texas this week stumping for Clinton. Albright spoke at a phone banking event in Houston on Wednesday and another in Austin on Thursday before heading down to San Antonio for a foreign policy roundtable discussion.
"I've been traveling around and I'm really very impressed by the energy," Albright told reporters after taking photos with Clinton volunteers in Austin.
Albright also expressed concern about rhetoric surrounding Muslim immigrants in the 2016 campaign. A recent University of Texas/Texas Tribune poll found that 46 percent of Texas voters favor banning foreign Muslims from entering the United States.
"I'm very troubled because I think that it shows hatred and fear," Albright said. "Nobody wants people here who are terrorists, but I think just to flat out say we are not going to allow Muslims in is short-sighted and mean."
Clinton's campaign also released its first Spanish-language radio ad for Texas on Thursday. In the ad, which touts her efforts on immigration, healthcare, and education, the narrator says that earning the nickname "La Hillary" means Clinton is "part of the family."