200-Plus Lawyers File Grievance With State Bar Against Paxton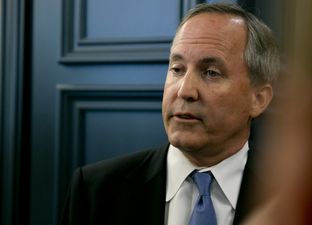 More than 200 Texas lawyers have added their names to a complaint against Attorney General Ken Paxton for his response to the U.S. Supreme Court's ruling on same-sex marriage.

The nearly 50-page grievance filed with the State Bar of Texas on Monday night says Paxton "violated his own official oath of office" by telling Texas clerks they did not have to issue marriage licenses to same-sex couples if it violated their religious beliefs. However, Paxton's direction to clerks, issued in the wake of theU.S. Supreme Court ruling legalizing same-sex marriage nationwide, warned clerks that they could face litigation if they chose not to issue licenses.
In response, Paxton spokeswoman Cynthia Meyer reiterated Tuesday that the attorney general's legal opinion was "a nonbinding interpretation of the law," one that "emphasizes the importance of protecting religious liberty while enforcing the Supreme Court's expanded definition of marriage."

The State Bar of Texas now has 30 days to determine whether the complaint alleges professional misconduct. If so, it may launch an investigation into the claims.
*****
Former Comptroller Susan Combs has found a way to salvage one of her favored education programs, which is set to be scrapped soon. Now, a political action committee funded by her campaign account will help pay for the program to operate out of the Bush School of Government and Public Services at Texas A&M University.

The program, the Financial Allocation Study for Texas, used test scores and school spending to rate schools on a five-star scale based on how efficiently they were spending money. It was created in 2009 and managed by Combs' office. Its funding was cut during the 2015 session.
*****
Former Harris County Republican Party Chairman Jared Woodfill has announced an eight-city speaking tour featuring a number of prominent conservative organizers.

The speakers, Woodfill writes, will talk about "key issues threatening Christian values and on the nuts and bolts of politics, so that we can take back our government." The tour starts Aug. 13 in Houston and finishes up with an Oct. 1 event in Waco.
Woodfill was one of the candidates seeking earlier this year to succeed Steve Munisteri as chair of the Republican Party of Texas. When asked if he will run again for chairman at next year's state convention, Woodfill told Texas Weekly that he's "focused on getting conservatives organized and mobilized for the upcoming City of Houston elections."
Disclosure: Texas A&M University is a corporate sponsor of The Texas Tribune. A complete list of Tribune donors and sponsors can be viewed here.