Lt. Gov. Patrick Will Appear at Hughes Senate Fundraisers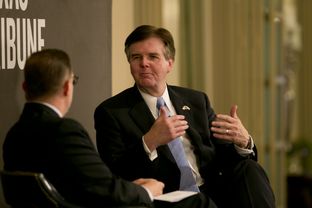 Lt. Gov. Dan Patrick plans to attend a pair of fundraisers for Senate District 1 candidate Bryan Hughes, a major get for the Mineola Republican who is squaring off against House colleague David Simpson for the nomination for the open seat.

His attendance, though, at the events, scheduled for Tyler and Austin, is not an endorsement of Hughes' candidacy, according to Patrick political consultant Allen Blakemore.

Rather, Blakemore told Texas Weekly late last week that Patrick was responding to an invitation from a friend to attend an event. The Hughes campaign said that Patrick will be a "special guest" at the events.
On Thursday, the Hughes campaign announced the Austin fundraiser would be held the afternoon of Sept. 1 at the Austin Club, a couple of blocks from the Capitol.

Patrick told the Tribune's Evan Smith in early June that he would not be endorsing in competitive primaries for open Senate seats.

The SD-1 seat is being vacated by Kevin Eltife. Also, the SD-24 seat is open as well as a result of the decision by Troy Fraser not to seek re-election. That seat has attracted interest from a number of would-be candidates.

Simpson consultant Luke Macias said that his campaign does not have any appearances with Patrick lined up, adding that the Simpson campaign has received recent assurances that Patrick intends to stay neutral in the race.

"We are very confident that the lieutenant governor would honor both the spirit and the letter of his commitment to stay out of Senate primaries," Macias said late last week. "And because of that, we have done everything we can to not place the lieutenant governor in any sticky situation regarding Senate District 1."
*****
Ophthalmologist Dawn Buckingham officially announced on Wednesday her entry in the race to replace outgoing state Sen. Troy Fraser, R-Horseshoe Bay.

Buckingham made the announcement at an event in Bee Cave. She has already raised roughly $48,000 in her effort and loaned herself $500,000 — and she faces a handful of other announced and potential candidates in the GOP SD-24 primary.
*****
Business owner Glenn Rex has jumped into the race to replace outgoing state Rep. Patricia Harless, R-Spring. Rex, a Harris County Republican Party precinct chair, joins businessman Kevin Roberts in the HD-126 GOP primary. The committee backing Roberts, who announced last month, reported raising about $155,000 in June.
*****
A super PAC backing the presidential candidacy of Rand Paul disclosed raising $3.1 million in an FEC filing posted late last week, including Texans like Whole Foods CEO John Mackey, who gave $50,000, as well as state Sen. Don Huffines, R-Dallas, and his brother Phillip who each gave $25,000.
Houston Texans owner Robert McNair gave $500,000 to the Security is Strength PAC, a group backing U.S. Sen. Lindsey Graham, R-S.C. The amount, which McNair donated June 6, is among the larger contributions publicized so far by a super PAC supporting a White House hopeful. McNair, who also gave to Graham's campaign, is expected to also be a major donor to a group of super PACs backing U.S. Sen. Ted Cruz, R-Texas.